Comments and Emails
The response to our story was more than we expected–to say the least.  From Ukranian and Pakistani government websites to our own FAA's website net searches revealed links to the video and news coverage. Here are a few of our favorite responses that we received or that were posted to websites at various news and social media outlets:
CarNut
Thanks for sharing! Do I see Brian Williams in the cock pit?
Darrin J's insight:
Great find! It was just waiting to be discovered.
David H.
Hi Dennis,
It's David.  I shared the boat (XXXXXXXXX) , just down the dock of your boat.  Congratulations on finding this plane.  What an amazing find.  I sure miss the dock!!!
If you would be up for me joining you on a dive at the plane, I would be thrilled.  If you feel comfortable sharing the coordinates with me, I would only share them with my longtime dive buddy, who you met, so we could go together.  He actually is a writer and writes for several diving magazines.
Anyway, I was so thrilled when I saw the news story and your picture came up…
Steve L.
Here are some coordinates you might find of interest…(Ed. Note:  Legitimate coordinates for other "unreported wreck dives" in the area provided by a noted sonar expert.)
johnVMFA22
cool find, and even better to know the pilot lived to fly another day.
Leadpumper
It was just incredible that a wreck like that could lie so close to a populated area and not be found," well we are talking about California after all.
snrar
They simply never bothered to recover it so where is the story ? I really don't think this is some great find only maybe for the diver who seems to think he has found and solved a great mystery .  (Ed. Note:  The airplanes "rediscovery" was broadcast internationally by hundreds of news media outlets including CNN and had over 1,120,000 hits on the internet within three days of release.)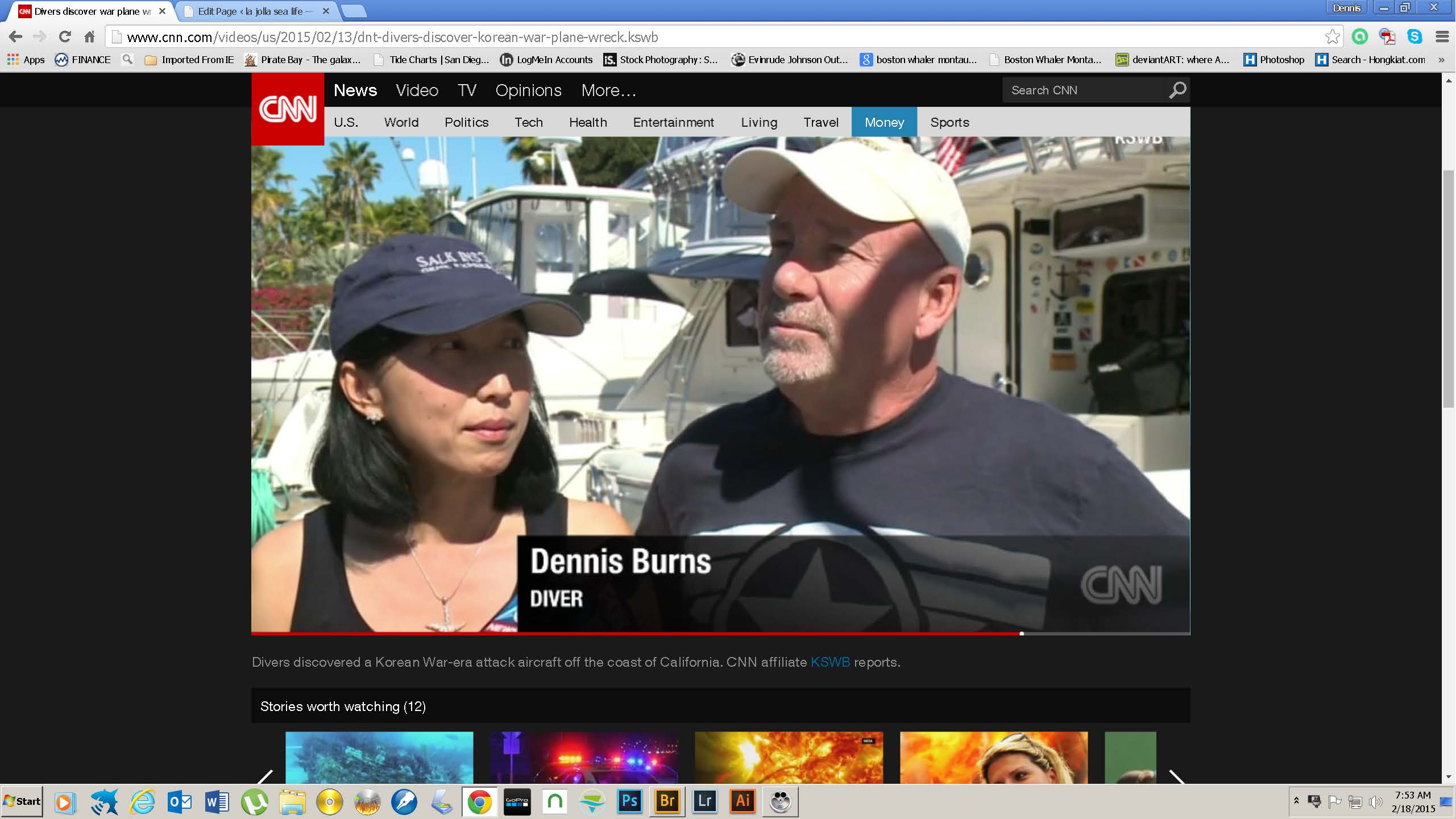 Bearway64
What Cannons?…. They were gone when I got there…..
@desertdog64
I came across that plane 22yrs ago, just assumed it was a known crash site.  (Ed's Note:  We had the same problem when we found the Titanic…damn that Cameron!)
Edward
It's too bad there are people that would scavenge parts of this wreck. My group and I would dive this and not touch, will wait until procedures are set up…
Charle B.
Wow
Lenny C.
Good for them….
Yasmin G.
If they found a plane from 60 years ago why can't they find the air plane from only a few years ago!
Matthew H.
Restoration?
Kel S.
Was us or Korean
MaxBottomtime
Great story, although the majority of wreck divers I know don't reveal the location of their finds to keep others from looting the site before they do. Very few are interested in preserving the site unless it's on their fireplace mantle. Some wrecks are dived for many years with only Mother Nature causing destruction, but then there are sites such as the Hogan where divers have picked it clean. There is always a dilemma to finding wrecks.
Calvin Evans
In 60′! lets go!
California Diver Magazine
It's important for divers to know that the exact position of the wreckage has not been revealed, and divers should refrain from attempting to dive this site until procedures have been set up to both protect it from treasure hunters and preserve it for research and future divers.
Email from Naval History and Heritage Command:
XXXXX, Alexis CIV NHHC
xxxx.xxxxx@navy.mil
Dear Dr. Yu and Mr. Burns,
I hope this e-mail finds you well. I am writing to you on behalf of the Naval History & Heritage Command's Underwater Archaeology Branch, which is the entity responsible for overseeing the Department of the Navy's sunken and terrestrial military craft program.
We recently came across the article "Hidden in Plane Sight" in Alert Diver magazine regarding your reported discovery of an A-1 Skyraider lost in 1953 off La Jolla, California. We would like to thank you for your responsible approach to the discovery, including not releasing the coordinates of the site publicly, as well as citing the Sunken Military Craft Act in your report as a means to prevent disturbance of the site.
The U.S. Navy is responsible for approximately 3,000 ship wrecks and more than 14,000 aircraft wrecks distributed world-wide that in addition to being of potentially significant historical importance may represent maritime grave sites, contain environmental hazards such as oil, or even encompass public safety hazards such as unexploded ordnance. These public assets are protected from disturbance upon identification as a U.S. government/U.S. Navy sunken military craft for these and other reasons.
I would like to ask that you consider volunteering the Bureau Number and coordinates of the aircraft in question, as well as share any photographs that you would consider vital to its identification with our office. Our policy aligns with best practices and statutory authorities regarding the management of cultural resources and permits us to protect coordinates from public dissemination as a means of preserving historic sites.
Having a record of the site's present condition, both in terms of location and documented state of preservation, would assist us in better managing the resource, should, for example, a mitigation project or looting pose a threat to the site. It also assists us in maintaining an accurate and updated archival record of the aircraft.
Please let me know if you have any questions and thank you for your consideration. You may find more information about our program at the following links, though please be aware that we are presently in the process of updating our website and therefore our digital presence has not fully matured.
http://www.history.navy.mil/research/underwater-archaeology.html
http://www.history.navy.mil/about-us/services-and-policies/archaeological-research-permits.html
Kind Regards,
Alexis
_____________________________________________________
REMOVED BY REQUEST OF SENDER.
_____________________________________________________